Emblematic Antarctica
on Le Lyrial
Cruise, Ocean cruise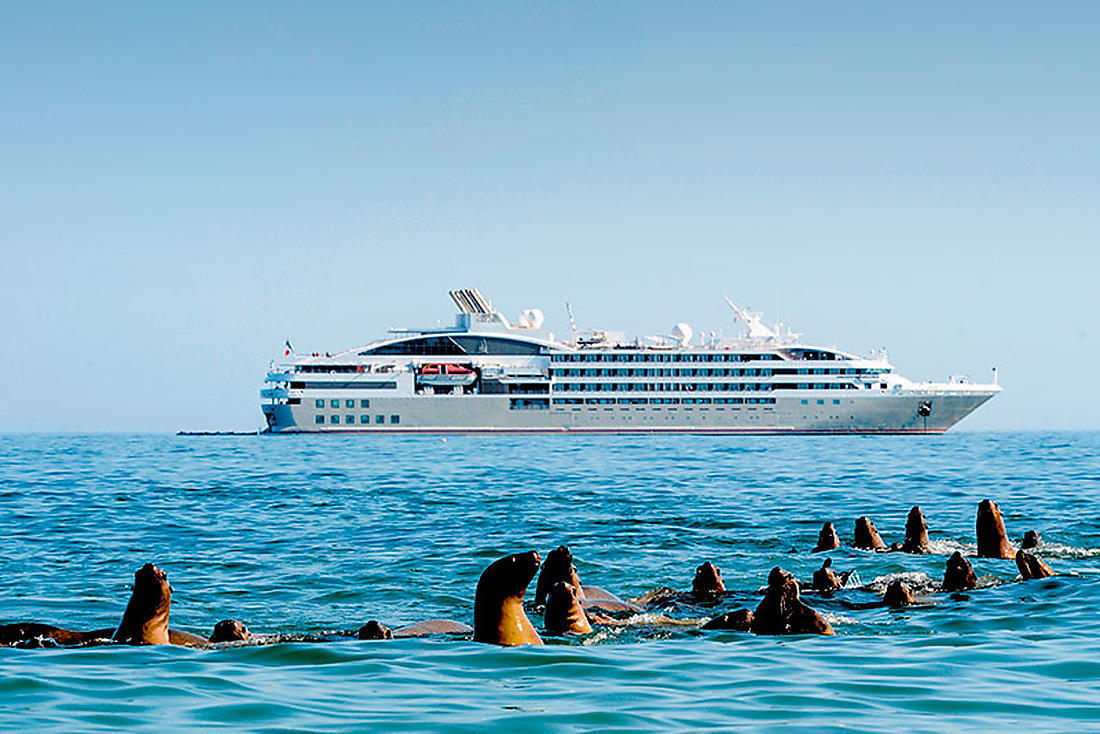 Emblematic Antarctica
Discover the Antarctic with PONANT!
PONANT invites you on a polar expedition cruise to the heart of the icy realm that is the Antarctic Peninsula. Embark on an unforgettable 11-day voyage and succumb to the enchantment of the breathtaking landscapes inhabited by astonishing wildlife.
The start of your cruise will be marked by the crossing of the mythical Drake Passage, during which you will probably be escorted by several albatrosses and Cape petrels, the sentinels of these often-choppy waters.
Your ship will then reach the White Continent, realm of the unexpected. Weather and ice conditions permitting, this extreme environment where nature reigns supreme will reveal to you its most beautiful secrets through numerous discoveries.
On this uninhabited land, which wasn't explored until the 19th century, your encounters with the wildlife will no doubt be one of the highlights of your experience. The Gentoo, Adelie and chinstrap penguins, humpback whales, seals and seabirds will provide you with cherished lifelong memories.
Each day, whether on land, aboard your ship or during a Zodiac® outing, you will be surrounded by a grandiose decor ranging from icebergs to ice floe and ancient glaciers.
We are privileged guests in these extreme lands where we are at the mercy of weather and ice conditions. Landings on certain sites and the observation of certain wildlife cannot be guaranteed. They vary from day to day, making each PONANT cruise a unique experience. The Captain and the Expedition Leader will make every effort to ensure that your experience is as rich as possible, while complying with the safety rules and instructions imposed by the IAATO.

PONANT is the World Leader in Luxury Expeditions with ultra-modern, intimate ships, offering attentive service and well-designed itineraries that touch all corners of the globe. Every cruise is a blend of adventure, exploration, and discovery—all experienced in luxurious comfort, even in the heart of extreme landscapes.
Why cruise with PONANT?


• 12 luxury small ships, able to easily navigate small waterways and visit remote destinations not accessible by large cruise ships.
• Le Commandant Charcot, the world's first luxury hybrid-electric polar exploration yacht, sails further into the polar regions (including the Geographic North Pole).
• The youngest expedition fleet afloat.
• The leader in luxury polar expeditions for over 20 years and cultural cruising for over 30 years.
• Over 400 awe-inspiring cruises, calling at over 450 ports on all seven continents.
• Experts on board our voyages of discovery and learning to enrich guests' understanding of the destinations.
• An exclusive partnership with Smithsonian Journeys, the the travel program of the Smithsonian Institution.
• Understated elegance on board with French-inspired cuisine, fine wines, and chic design.
• Proud to partner with Sothys, Veuve Clicquot, and Ducasse Conseil. Ships feature fabrics by Pierre Frey, beauty products from Hermès, macarons by Ladurée, and tea from Palais des Thés.
• 100% of our staterooms have a sea view and 95% have a balcony (100% on the PONANT EXPLORERS).
• Attentive yet discreet service from an experienced, multilingual onboard staff and crew.
• Open bridge access (requires approval from Captain).
• "Clean Ship" certification for the fleet in recognition of their eco-friendly features.
• All-inclusive pricing with open bar, gratuities, port fees, and taxes (including Zodiac explorations/landings on expeditions).
• The world's first underwater passenger lounge, the Blue Eye, featured exclusively on the PONANT EXPLORER ships.